Nana Ama McBrown and husband Maxwell Mensah have shown that they are enjoying their marriage. In a photo, McBrown and her husband together with their children were seen looking dapper in their all colorful attires and the photo has got their followers drooling all over their adorable looks.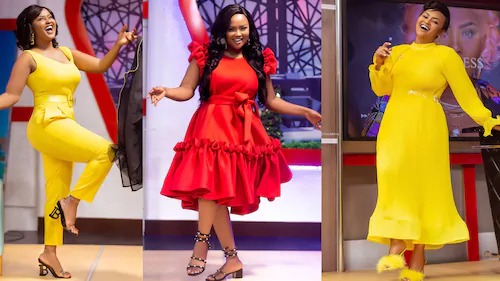 You could see the couple are really happy about their marriage and "a happy marriage is being happy with what you've got, rather than expecting your marriage to be a certain way," says one married woman. "Being content and grateful for what you have, instead of constantly trying to live up to some unrealistic standard set by movies and romance novels, is real happiness."
"In a happy marriage, two people share things equally," says another married woman. "It doesn't sound romantic, but I'm honestly happy because my husband does the dishes and the laundry as often as I do. We cook together, we run errands together. I don't feel burdened, and I don't feel taken for granted."
Felicity Ama Agyemang known as Nana Ama McBrown is a Ghanaian actress, TV presenter, and music writer. She rose to prominence for her role in television series Tentacles. Later, she found mainstream success following her role in the Twi-language movie Asoriba.
Multiple award-winning actress and broadcaster, Nana Ama McBrown has proven that she is the happiest wife in the world. Nana Ama McBrown and her husband Maxwell Mensah have one of the most admired celebrity relationships and their activities on social media excite fans.
Together they have three adorable children and they are Phoebe, Chauncey, and Baby Maxin.
Phoebe and Chauncey are stepchildren to Nana Ama Mcbrown and Baby Maxin is her biological daughter or child. Below are some beautiful photos of Nana Ama Mcbrown and husband Maxwell Mensah together with their children