Prophet Nigel Gaisie who's the head pastor and founder of Prophetic Hill Chapel has caused a stir with some latest trending photos.
Prophet Nigel Gaisie is better known for his prophecy he gave on the late Ebony Reigns and the accident which occurred on the Kintampo roads which claimed about 30 lives.
He has been in the news and the talk of Ghana for the past two weeks through Kennedy Agyapong. The Honourable MP who has vowed the exposed all the fake pastors in Ghana.
He started with Prophet Badu Kobi, making most of his cars being seized with no proper documentation on those cars and revealing other hidden things about him.
He then again moved to Angel Obinim, got him Obinim arrested, and charged with publication of false news and forgery.
The third pastor on the list of Ken Agyapong is Prophet Nigel Gaisie, he believes he's an 'NDC' man. He also exposed him to sleeping with a lot of women in his church including the top female celebrities or well-known females in the country.
The allegations of the Honourable MP has been confirmed by a lady of Facebook called Abena Kyerwaa Adepa. She said "I am beginning to lose interest in Christianity in this country where no law protects the ignorant and the vulnerable. You cannot call this criminal in Rwanda as a pastor. He is a cheap rapist and a common womanizer. Perhaps, after he chops them in his office, he has to carry them in his back as a sign of his success in the spiritual realm to show his masters how good he is, as a servant to them. What a shameful demon"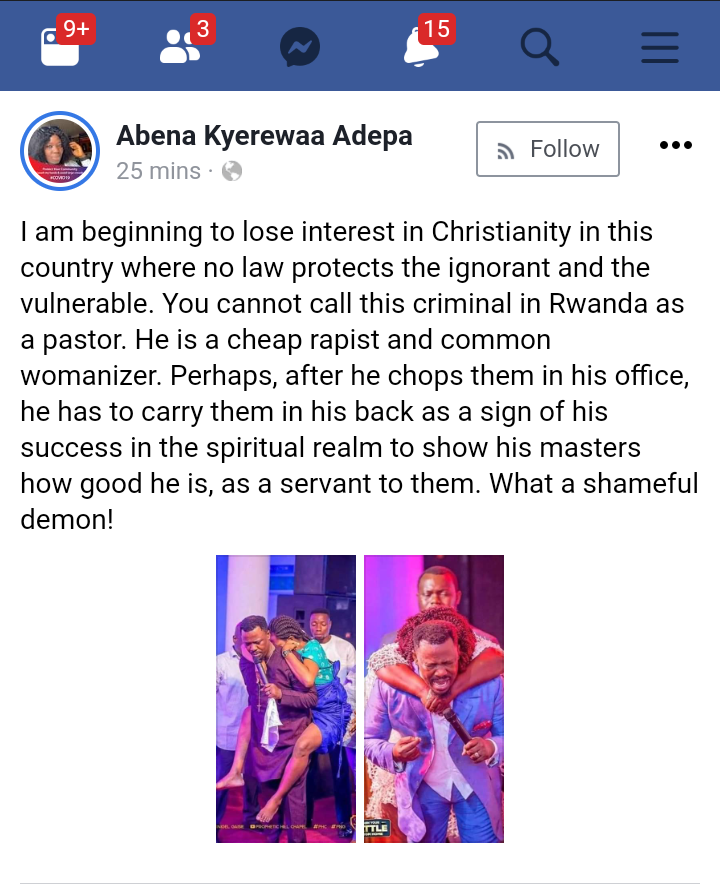 Her post got social media buzzing with a lot of comments and here are few of them:
Izuchukwu Majesty Udegboka "If this happened in actuality, then shame to the so-called Pastor and his ministers.
Christianity is becoming something else. Some of these men of God are hooligans looking for whom to devour"
Paa Kwasi Sam "It is very sad dear. It's becoming hard to fish out who the good ones are. May God have mercy on us"
Samuel Oduma Ezebube " Don't lose faith because of pictures. Our eyes can deceive us"
Akesse Moïse Sanza " Lol … this is Christianity. Serve God, don't belong to a religion."